CAN COLLAGEN PEPTIDES INFLUENCE HAIR GROWTH?
Under the influence of celebrities and social media stars, more and more of us are tapping into the growing range of products offering a ticket to a full head of beautiful hair. In this article, we look at some of the science behind hair loss and at research results on the hair care potential of supplements like Peptan® collagen peptides.
The science behind hair loss
Hair loss affects many of us. It can be – but is not always – linked to lifestyle and aging. For example, if you're a mature woman or a new mother, you may experience hair loss due to hormonal shifts. Men of all ages, including millennials and Gen X'ers, often face progressive hair loss and pattern baldness over their lifetime.
Before going further, we need to take a closer look at hair. Our hair follows a four-phase growth cycle, as shown in Figure 1 below: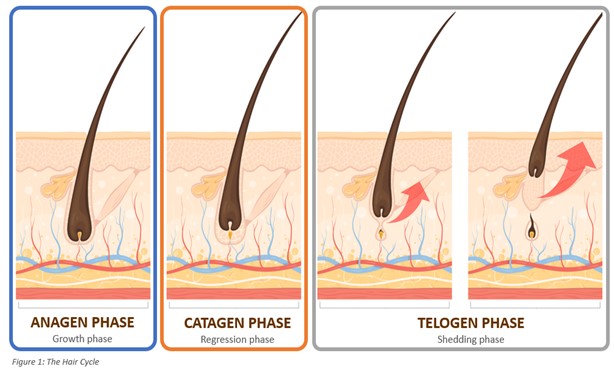 As each hair cell goes through the cycle, hair-producing cells, known as keratinocytes, stay active, promoting the growth of new hair cells. This means that, as each hair reaches the shedding phase, it can be replaced by a newly formed, growing hair. This process is what gives a person a full head of hair. However, if your hair cells reach the catagen, or regression, phase too early, you may face hair loss and thinning.
New research on hair care and collagen peptides
For people dealing with hair loss, collagen peptides are emerging as an interesting option to explore. And not without reason: some of the scientific results behind this ingredient's hair care credentials are promising.
Want to learn more?
Discover Peptan's potential to improve nail, skin and hair beauty. If you want to keep up to date with Peptan, follow us on social media or go to Peptan.com.
---
---
[1] Rousselot & Monasterium Lab (manuscript in preparation, 2022).
[2] Monasterium Laboratory brings together a network of international advisors, scientists, dermatologists, and consultants, merging knowledge from academia and the beauty industry. Their client list includes some of the leading companies in the field of skin and hair care. They provide high-quality research for different applications, as indicated by their strong publication record in international journals, with over 170 publications in the last 7 years.
[3] Slowing down the clock with collagen peptides. Cosmetics Business white paper, January 2021 issue. Accessed here.
[4] England Marketing consumer testimonials 2021
---
Recent articles
66 products have been found in your country