Product of the month - Sanavita's hyaluronic skin: advanced technology for greater beauty
This month Andrea Dario Frias, P&D and Regulatory Affairs manager from Sanavita, a food manufacturer specializing in healthy functional products and food supplements that has science, innovation and scientific evidence in its DNA, presents their "Hyaluronic Skin" for skin beauty.
Every month we invite a Peptan co-branded partner to talk about their product with Peptan collagen peptides inside.
Author: Andrea Dario Frias, P&D Regulatory Affairs Manager at Sanavita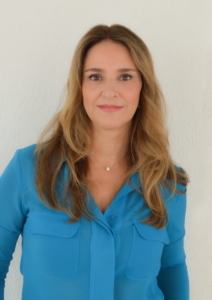 "We want to take care of you, so you can take care of the world." This is Sanavita's purpose.
We are a manufacturer specializing in healthy functional products and food supplements founded in 1984, located in Piracicaba, in the countryside of São Paulo. We have our own Research Center, composed by masters and doctors in nutrition and food science. This center works in direct contact with key research institutions across Brazil and the world, mapping the latest insight, news, and trends in products for people's health, fitness, and well-being.
Today, we are one of the main manufacturers of functional foods in Brazil, with a range of more than 63 products, that can be found in thousands of health food stores, emporiums, supplement stores, drugstores, and supermarkets all over Brazil. We believe in the power of science to help us live healthier lives, and that healthier people can make a better world.
We are constantly looking to develop innovative product backed by science, this is why we have launched Hyaluronic Skin.
Hyaluronic Skin is an innovative supplement that offers important nutrients and actives for skincare, helping to fight the signs of aging from the inside out. Its formula blends Peptan® collagen peptides with the ideal dose of hyaluronic acid, in addition to a complex of vitamins and minerals. These boost the formation of collagen and help to maintain and protect the skin from damage caused by the action of free radicals. As the benefits of Hyaluronic Skin actives and Peptan are backed by scientific studies, the impact of this product can be trusted.
We chose Peptan because of its leading brand name and credible scientific studies backing its beauty benefits.
Beautiful skin from the inside out
Alongside a healthy lifestyle, a daily care routine is vital for having beautiful skin. This routine should include the use of sunscreen, good hydration, and proper cleansing. Sanavita's Hyaluronic Skin can be a part of it, as it contains a blend of ingredients that help reduce the impact of the natural aging process and poor lifestyle habits on skin beauty.
The impact of age on our skin
By the age of 30, the first signs of aging can already be seen. This is because our body's production of collagen, a protein that supports the skin, drops at a rate of approximately 1% per year. At 50, average production is down to just 35%.
In addition to collagen, we gradually lose another important component of our skin over the years: hyaluronic acid, a substance responsible for hydrating and filling the skin, with the ability to retain water up to a thousand times its weight. A 75-year-old only has a quarter of the amount of hyaluronic acid found in a typical 19-year-old.
The loss of both collagen and hyaluronic acid has an impact on our skin as we age. According to Sanavita, Hyaluronic Skin offers a way of reducing this impacting, and protecting our skin from the visible signs of aging.
Hyaluronic Skin with Peptan: backed by science
Sanavita's Hyaluronic Skin stimulates the replacement of these important skin components. A single dose contains 8.4g of Peptan® collagen peptides.
A recent published study showed that bioactive hydroxyproline-carrying dipeptides in the blood after Peptan ingestion. These dipeptides (Hydroxyproline-Glycine and Proline-Hydroxyproline) significantly contributed to the total increase of hydroxyproline, the characteristic amino acid of collagen, in the blood. The benefits of Peptan collagen peptides for skin health- which include improving overall skin appearance – have been highlighted in rigorous clinical studies.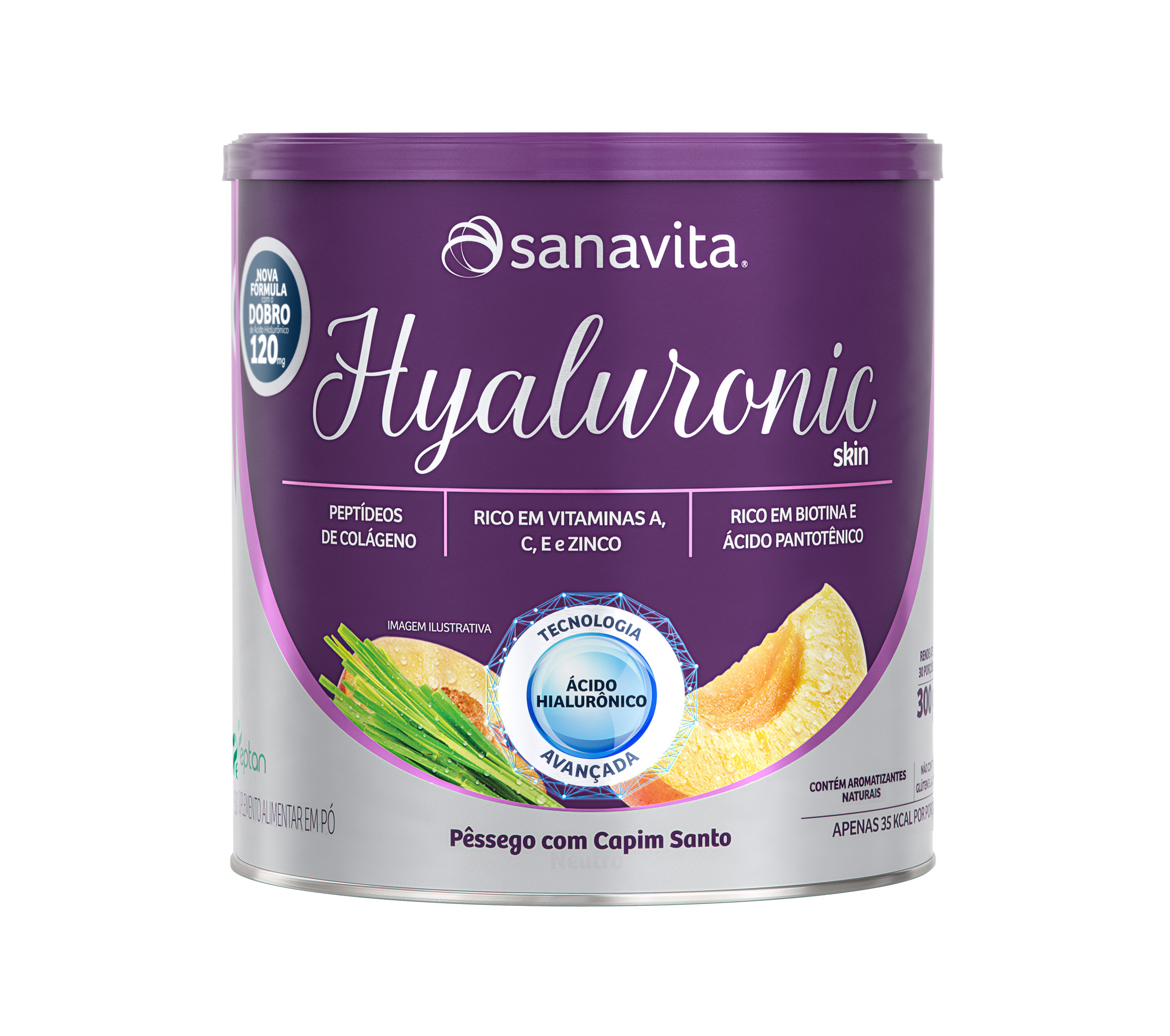 In this product, these Peptan collagen peptides have been combined with 120mg of sodium hyaluronate, a source of high-quality and pure hyaluronic acid (95%). It is obtained by an advanced bacterial fermentation technology (Streptococcus zooepidemicus) that generates hyaluronic acid with specific molecular weight for the skin (300-500kDa) and excellent bioavailability proven in studies that evaluated its hydration potential in dry and aged skin.
Packed with the vitamins your skin needs
In synergy with Peptan® collagen peptides and hyaluronic acid, the Hyaluronic Skin formula is enhanced with a complex of vitamins and minerals essential for skin nutrition and beauty. Each dose contains 100% of the daily requirements for vitamins A, C, E, biotin, pantothenic acid, and zinc.
Free of sugars, lactose, and gluten
Hyaluronic Skin is available in three flavors: neutral, pineapple with lemon, and peach with holy grass. Each flavor is free from sugars, lactose, and gluten. These products are also low in calories and contain no artificial flavors or colors.
To find out more about Sanavita and Hyaluronic Skin, visit the Sanavita website or learn more about Peptan.
References:
Clinical Pharmacology & Biopharmaceutics, 4:142, 2015
Sumida E et al. J Nutr Food, v.7, p.45-52, 2004;
Absorption of Orally Administered Hyaluronan
An Overview of the Beneficial Effects of Hydrolysed Collagen as a Nutraceutical on Skin Properties
Oral Collagen Supplementation: A Systematic Review of Dermatological Applications
Oral hyaluronan relieves wrinkles: a double-blinded, placebo-controlled study over a 12-week period
Yoshida T et al. J New Rem & Clin, v. 58, n. 8, p. 143–155, 2009;
Journal of Photochemistry and Photobiology B: Biology
Archile-Contreras, A. C. et al.Journal of Agricultural and Food Chemistry. v.59, n. 2, p. 608-614, 2011. 44; Masaki H. J Dermatol Sci, v.58, n.2, p.85-90, 2010.