TAKING THE NEXT STEP: STAYING MOBILE WITH HEALTHY JOINTS AND BONES | PEPTAN®, COLARTIX®  
Today, more people want to maintain their mobility for longer. In this article, we take a closer look at what mobility is, the importance of joint and bone health, and how collagen peptide supplementation can play a role.
Why is joint and bone health so important for mobility?
While we all know that mobility is related to movement, what exactly is it? Mobility explains how we can move our bodies. Running, cooking, walking the dog, or even reading a book: all the things we love to do require our body to move, bend, and – to a certain extent – be flexible.
The structures in our bodies that enable our muscles to move are our joints and bones. A number of factors can negatively impact our joints and bones, making mobility more difficult. For example, the aging process can lead to weaker bones and less flexible joints. Long-term, intense exercise can also damage our joints.
The trend toward mobility supplementation
That's why many people are turning towards mobility supplements to support their bodies and help them to stay active for longer. These include: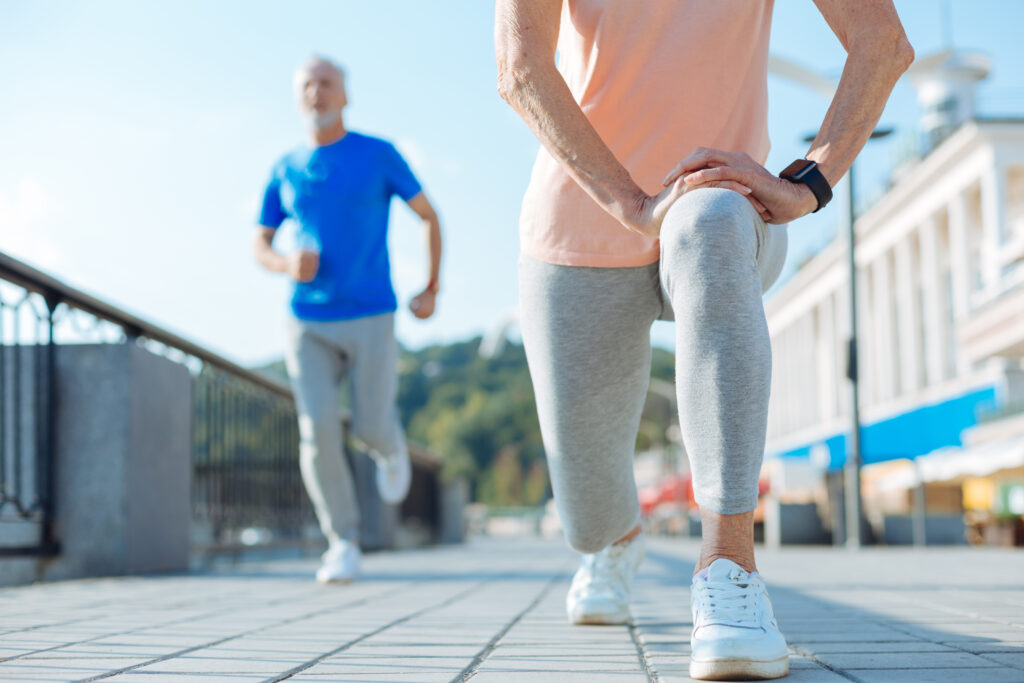 JOINTS, BODY MOVEMENTS AND SUPPLEMENTATION
Why are joints and bones pivotal for mobility? And what role does collagen play? In the next section of this article, we explore how our joints and bones, allow us to move, before examining collagen's benefits on the body.
Some facts about joints
Essential for almost every movement we make, joints are key structures in the body. They consist of at least two movable parts. Where they meet, the bones are covered with hyaline cartilage. This cartilage protects our bones by keeping them from scraping against each other, thereby minimizing impact. In between those structures, the synovial fluid makes sure everything runs smoothly, like oil on a bicycle or in a car.
Did you know that collagen is a major component of joints? The naturally-occurring collagen in our bodies performs a key function: it's responsible for our strength and flexibility. Over time, our body's collagen levels and quality diminish, as the balance between synthesis and breakdown of cartilage gets disturbed. This can lead to swelling, pain, stiffness, bone friction, and mobility issues.
How can collagen maintain joint health?
Collagen supplementation is one way to alleviate the natural loss of collagen. The benefits for our joints of hydrolyzed collagen, also known as collagen peptides, have been shown across a range of clinical studies. For example, in a 6-month randomized, placebo-controlled, double-blind clinical trial study from 2014[1], several elderly women with mild joint discomfort were offered 8 grams per day of Peptan® collagen peptides. The study results indicated a reduction in joint pain and an improvement in mobility and joint function. More specifically, the data showed that supplementation led to a:
Another study from 2022 included more than 200 different participants across a range of genders, ages, and activity types, including gardeners and marathon runners [2]. The participants each took either 1 gram of Colartix collagen cartilage matrix [3] or a placebo each day. Then they measured the reported changes in joint pain after exercise over 12 weeks. The results showed a steady decrease in joint discomfort for those taking the Colartix supplement, while the placebo group remained constant over time.
Learn more on the science behind Peptan on our Blogs pages
BONE HEALTH AND COLLAGEN PEPTIDES
With consumer studies underlining collagen's benefits for joint health, we can see how supplementation can help keep our joints performing. Next, we will look at another crucial element in movement: our bones.
The role of healthy bones: adding strength and stability
Our bones are dynamic, living, and growing tissues. Within them, calcium and collagen come together to give them their strength and stress resistance. Collagen, which represents around 90% of the bone's organic matrix, is a protein that provides bones with a flexible framework, while calcium phosphate is deposited on this framework, adding strength and stability.
Our bones are so crucial to our movement, and we must take care of them if we want to stay active, healthy, and mobile as we age. During our lifetime, our bones undergo a process called bone remodeling, or bone turnover: older bone tissue is broken down, by a process called bone resorption, with new tissue forming in the skeleton, known as bone formation. Over time, the balance of our bone metabolism gets disturbed and bone loss increases. The amount and quality of collagen also diminishes, which can lead to osteoporosis (OP).
Why are collagen peptides good for bones?
We can help to preserve our bone health with regular exercise and a balanced diet that includes the right nutrients, such as vitamin D, calcium, and protein. As protein intake contributes to the maintenance of normal bones and collagen peptides are hydrolyzed proteins, it makes sense that collagen peptide supplementation can contribute to the maintenance of our bone health.
Several studies have suggested that Peptan® collagen peptides can help maintain bone health. [4] [5] [6]For example, two in vivo studies indicate that oral intake of Peptan collagen peptides may help to reduce bone loss and increase bone density.[7] [8]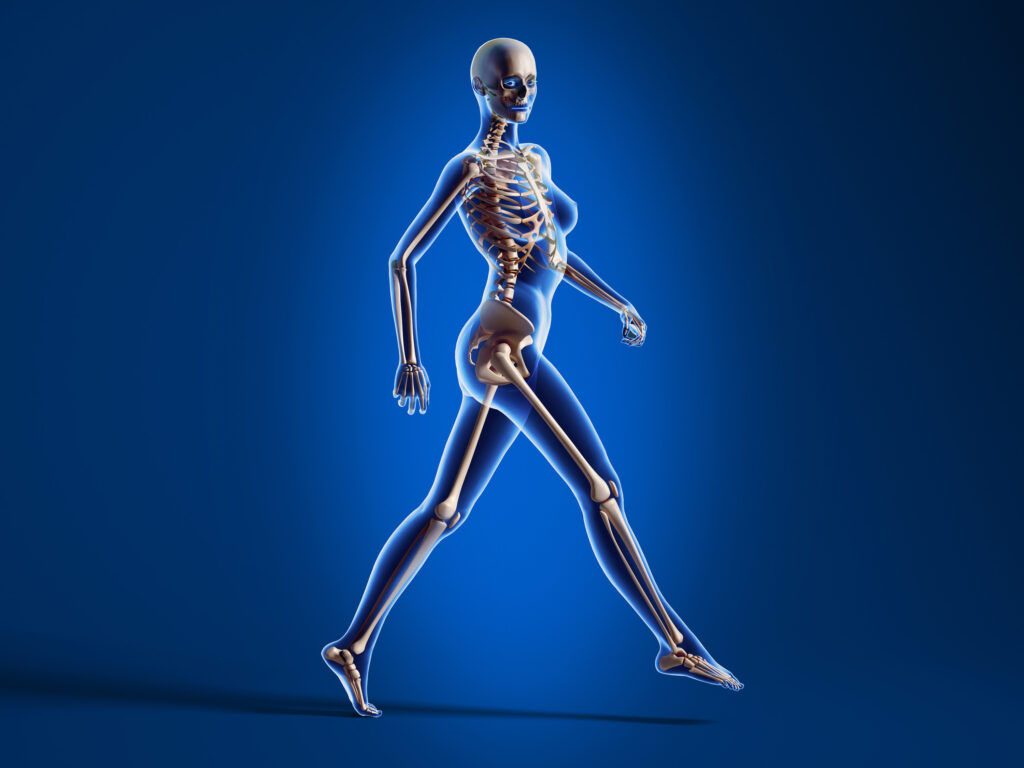 Staying mobile
Taking care of our joints and bones is essential for an active, mobile life. As the studies referenced above indicate, collagen peptide supplements can play a part in supporting bone and joint health, helping us to experience the joy of movement for longer.
Want to learn more about the mobility potential of collagen peptides? Check out this article now on 'Why collagen peptides matter to your mobility' .
---
References
[1] Jiang J.X. et al., 2014, Collagen peptides improve knee osteoarthritis in elderly women: A 6-month randomized, double-blind, placebo-controlled study. Agro FOOD Industry Hi Tech 25: 19-23
[2] Dar, Q. et al., 2017. Daily oral consumption of hydrolyzed type 1 collagen is chondroprotective and anti-inflammatory in murine posttraumatic osteoarthritis. PLoS ONE 12(4):e0174705
[3] Newman, C. et al. 2022. The effect of a natural matrix of collagen types and chondroitin sulfate on joint discomfort in physically active adults: a real-life setting study. Submitted for publication.
[4] Guillerminet, F. et al., 2010, Hydrolyzed collagen improves bone metabolism and biomechanical parameters in ovariectomized mice: An in vitro and in vivo study. Bone, 46: 827-834 5.
[5] Guillerminet, F. et al., 2012, Hydrolyzed collagen improves bone status and prevents bone loss in ovariectomized C3H/HeN mice. Osteoporosis International, 23(7):1909-1919
[6] Daneault, A. et al., 2014, Hydrolyzed collagen contributes to osteoblast differentiation in vitro and subsequent bone health in vivo. Osteoarthritis and Cartilage, 22: S131
[7] Guillerminet, F. et al., 2010, Hydrolyzed collagen improves bone metabolism and biomechanical parameters in ovariectomized mice: An in vitro and in vivo study. Bone, 46: 827-834 5.
[8] Guillerminet, F. et al., 2012, Hydrolyzed collagen improves bone status and prevents bone loss in ovariectomized C3H/HeN mice. Osteoporosis International, 23(7):1909-1919
Recent articles
66 products have been found in your country