Panna Cotta with Peptan
Enjoy the benefits of Peptan with this smooth, sweet dessert. The gelatin leaves are a stabilizer which gives the Panna Cotta a luscious, smooth texture with a pleasing mouthfeel. If you want a heavenly dessert with the health benefits to match, this one's for you!
Ingredients (for 2 servings, or 250g)
Gelatin leaves (1 ½ leaves)
Cold water (for swelling gelatin leaves) (1 bowl)
Peptan P Collagen Peptides (13g)
Sugar (sucrose) (17g)
Whole cream (full fat) (170g)
Skimmed milk (44g)
Flavoring – vanilla (A few drops)
Step-by-step
Soak the gelatin leaves in cold water until they swell (this water is only used for swelling; it is not an ingredient).

Mix the Peptan and sugar into a pan with the cold cream and milk, while whisking.

Heat the pan for 10 minutes, being careful not to boil, whilst stirring. Squeeze out the gelatin leaves and add them to the solution and stir until the gelatin has dissolved.

Add flavoring.

Place the solution in mould before storing in the fridge for setting. Wait at least 24 hours before serving.

Garnish with mint leaves and strawberries or your favorite fruits when ready to serve.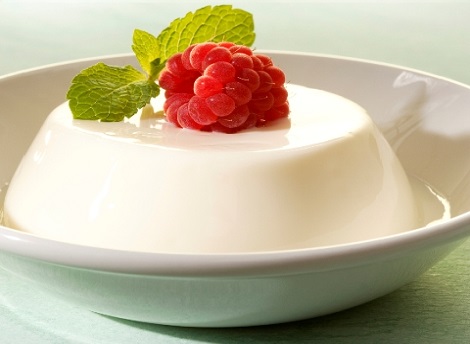 Recent articles
66 products have been found in your country