A QUICK, LOW-CARB CHAFFLE, PACKED WITH HEALTH BENEFITS
If you're looking for a tasty snack that's keto-friendly, try this nutritious, cheesy chaffle*. With added collagen peptides, it offers even more health benefits than your standard waffle.
This easy-to-make cheese-waffle combo, also known as a chaffle, works as both a sweet or savory option, which makes it a great late-night snack!
How to add collagen peptides in your cheese waffles
Ingredients you'll need:
150g of ground cheese
1 egg
10 to 20g of Peptan collagen peptides
Here are the steps to make this recipe:
Mix all the ingredients together to create a batter
Cook in a basic waffle iron for 5 to 7 minutes
Serve with your preferred toppings: you can add maple syrup and berries for a sweet treat, or avocado, garlic, and ham for a savory snack.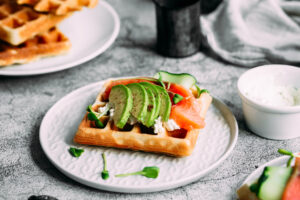 Benefits
Thanks to its hearty base ingredients, the chaffle is a great low-carb, low-sugar treat, ideal for those on the keto diet. Cheese is a source of calcium, fat, and protein, while Peptan adds a bunch of science-backed health benefits, making this recipe even more worthwhile. Did you know that adding just 5g of Peptan can impact your skin beauty?
Top tip: with such a small ingredients list, it's easy to vary the recipe and create your own version. Try different cheeses, like mozzarella or cheddar, for a different taste or texture. Or add in chili flakes for a spicier bite."
Whether you use it as a quick and easy breakfast dish, a bread replacement, or a late-night snack, this simple chaffle recipe is ideal for anyone on the go. With a low carbohydrate count, it's also perfect for your diet.
Follow Peptan on Instagram and Facebook for new recipes, tips about using collagen peptides, and much more.
*Recipe developed by Peptan ambassador Rémi Blanchard